By Martin B. Gold
Described as "one of the most vulgar forms of barbarism," by Rep. John Kasson (R-IA) in 1882, a series of laws known as The Chinese Exclusion Act passed by the United States Congress between 1879 and 1943 resulted in prohibiting the Chinese as a people from becoming U.S. citizens. Forbidden Citizens recounts this long and shameful legislative history, telling the inside story of the battle over Chinese exclusion, examining all of the exclusion laws using the words actually spoken in Senate and House debates.
[L]andmark volume on the subject of exclusionary policies against Chinese and Chinese Americans … a valuable teaching tool … an exemplary subject reference.
Library Journal
Highly recommended. Lower-division undergraduates through faculty.
CHOICE
Forbidden Citizens Recognized with Two Awards: APALA and Benjamin Franklin Awards
For complete Table of Contents, sample sections, and secure online ordering, see ForbiddenCitizens.com.
The Chinese Exclusion Act Behind the scenes interview with Ric Burns and Li-Shin Yu
Forbidden Citizens is available in both hardbound and softcover editions, and an ebook.
2012, 616 pages
LCCN: 2011943122
Softcover, $35
ISBN 13: 978-1-58733-257-9
1587332574
Dimensions: 6.69 x 9.61 x 1.2
Weight: 2 pounds
Hardbound, $45
ISBN 13: 978-1-58733-235-7
1587332353
Dimensions: 6.69 x 9.61 x 1.3
Weight: 2.5 pounds
Ebook $9.95
EISBN: 9781587332593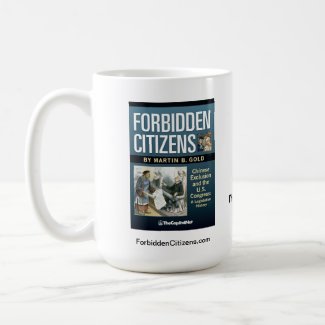 Forbidden Citizens mug by
TheCapitolNet
---
For more than 40 years, TheCapitol.Net and its predecessor, Congressional Quarterly Executive Conferences, have been teaching professionals from government, military, business, and NGOs about the dynamics and operations of the legislative and executive branches and how to work with them.
Our
custom on-site and online training
,
publications
, and
audio courses
include congressional operations, legislative and budget process, communication and advocacy, media and public relations, testifying before Congress, research skills, legislative drafting, critical thinking and writing, and more.
TheCapitol.Net is on the GSA Schedule, MAS, for custom on-site and online training
. GSA Contract GS02F0192X
TheCapitol.Net
is a non-partisan small business.
Teaching how Washington and Congress work ™